Behaviour Expectations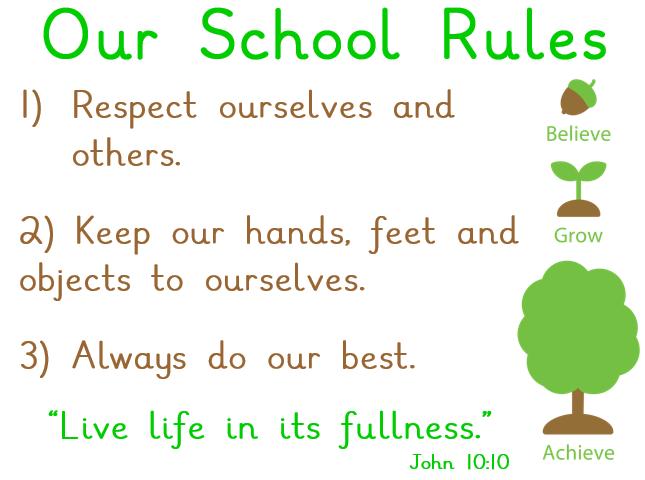 Learning about how to behave positively towards others and to make good decisions for ourselves, both physically and emotionally, is entwined across our whole curriculum. All children are expected to adhere to our high expectations. These include: our attitudes towards academic work; being prepared for school by being in correct uniform, completing homework; and punctual. Parents are expected to support school in promoting these positive behaviours.
We use 'Restorative Practice' to help children to develop an ability to reflect on their behaviour choices, how they may have hurt themselves and others and how to behave in a more positive way in the future. Children will fall out with each other and behave in a way that is unwanted. When this happens staff will discuss the expected behaviour and the emotions involved. Often, this will be enough for the majority of children. We want to support children to make positive decisions for themselves so look to 'catch children in, not catch them out'. This means that not all unwanted behaviour merits a sanction. At some point, most children will fall out with someone or behave in a way that is unwanted. Just as we teach children that we learn from mistakes when learning about academic subjects, so the same is true with emotions and behaviour. Restorative Practice seeks to understand and adapt behaviour rather than to punish it, and seeks to help children to understand that they are responsible for their own behaviour.
If the unwanted behaviour has been deliberate, repeated or very serious, however, there will likely be a sanction as children still need to learn that there are consequences to our actions, both positive and negative.
Bullying
The Anti-Bullying Alliance defines bullying as:
THE REPETITIVE, INTENTIONAL HURTING OF ONE PERSON OR GROUP BY ANOTHER PERSON OR GROUP, WHERE THE RELATIONSHIP INVOLVES AN IMBALANCE OF POWER
BULLYING CAN BE PHYSICAL, VERBAL OR PSYCHOLOGICAL.
IT CAN HAPPEN FACE-TO-FACE OR ONLINE.
We take a zero-tolerance attitude towards bullying and educate children to spot it and speak up about it in a variety of ways as part of our curriculum and in assemblies to empower everybody in our school community to value and respect themselves. This includes online behaviour.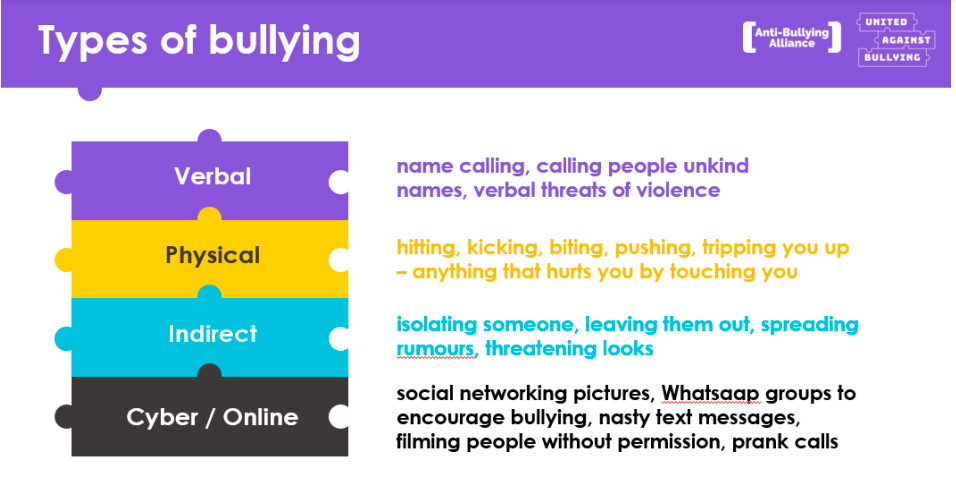 Bullying is a deliberate, repeated act by one child (or children) towards another to physically or emotionally hurt them Several Times On Purpose. We use STOP to remind children about what bullying is and how to address it. Thankfully, behaviour at our school is excellent and episodes of bullying are very rare. However, children will, on occasion, fall out with each other, may occasionally be unkind to each other, or play becomes too rough. These are beyond the boundaries of acceptable behaviours in school, can cause upset to children and parents and will be dealt with seriously by staff, but one-off, isolated incidents are not bullying.
When we discover bullying in school we will always deal with it in the most serious manner. This does not mean that we automatically suspend or exclude children. That will always be a last resort. Our aim is to help all of our children to become the best person they can be and to care for everyone.
We also challenge children to be kind to each other using STOP: do or say something positive for someone else Several Times On Purpose and then Start Telling Other People about the kindness shown.